Diese Veranstaltung hat bereits stattgefunden.
Jaeyoon LEE – Werke von Beethoven und Schumann
Januar 23|17:00
Eintritt frei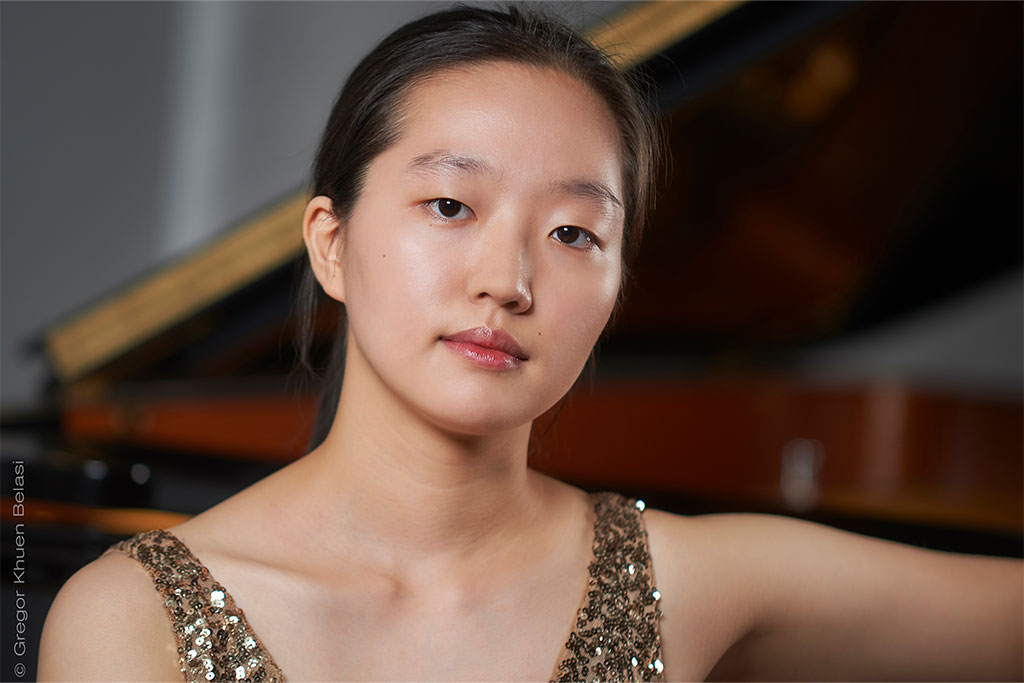 Fotos von der Veranstaltung
L. v. Beethoven (1770 – 1827)
Klaviersonate Nr. 23 in f-Moll, Op. 57

I. Allegro assai
II. Andante con moto
III. Allegro ma non troppo – Presto

R. Schumann (1810 – 1856)
Carnaval: Scènes mignonnes sur quatre notes, Op. 9

I. Préambule
II. Pierrot
III. Arlequin
IV. Valse noble
V. Eusebius
VI. Florestan
VII. Coquette
VIII. Réplique
IX. Papillons
X. A.S.C.H. – S.C.H.A. (Lettres dansantes)
XI. Chiarina
XII. Chopin
XIII. Estrella
XIV. Reconnaissance
XV. Pantalon et Colombine
XVI. Valse allemande
XVII. Paganini (Intermezzo)
XVIII. Aveu
XIX. Promenade
XX. Pause
XXI. Marche des "Davidsbündler" contre les Philistins



Jaeyoon ist Preisträgerin internationaler Preise und studiert an der Universität Mozarteum.
Jaeyoon Lee Born in 1997 (Seoul, Korea). She received piano education at the age of four. She studied at Seoul Arts Center Prodigy Music Academy, Seoul Yewon Arts School, Korea National University of Arts and is currently studying with Prof. Pavel Gililov at Mozarteum University Salzburg. She is a first prize winner of international competitions including First prize in 1st International Robert Schumann Competition (Düsseldorf 2017), Grand-Prix in International Khabarovsk Piano Competition "Heirs of Tradition" (Russia 2018), Top prize in 56th International Arcangelo Speranza Competition (Italy 2018), Third prize in 20th International Piano Competition "Composers of Spain, Juan Duran" (Spain 2019), First prize in International Costiera Amalfitana Competition (Italy 2015), Third prize in International Antonio Napolitano Competition (Italy 2015) and International Asia Chopin Competition in Japan. Also Korea Open Piano Forum of Mozart Hall selected her as "Junior Mozart". Her achievements include First prizes in Korea Chopin Competition, Korea Beethoven Competition etc. She has performed with Torun Symphony Orchestra (Poland), Seongnam Philharmonic Orchestra (South Korea), Khabarovsk Philharmonic Orchestra (Russia), International "Virtuosos de Madrid" Orchestra (Spain). Also she appeared as a soloist with Bad Reichenhall Philharmonic Orchestra in Alpenklassik Festival in 2019. Invited to world-famous festivals and venues such as Salzburg Festival, Schleswig-Holstein Festival, Katowice, Bydgoszcz, Korea Yamaha Center, Konzertrotunde Deutschland, Haus der Kultur Anif Austria, Eppan, Leipzig, Köln, Liechtenstein, Brescia, Malta, Holland, Marbella and Seoul etc. Recently her concert was broadcasted by RTS-Espace in Switzerland. She holds a scholarship from the Principality of Liechtenstein. In 2021, she has been selected to the Frost Chopin Academy (Miami) and as a fully subsidized participant to the Kosciuszko Foundation Chopin Piano Academy (Washington, D.C.). Also she was invited to the Radziejowice Castle by the Fryderyk Chopin Institute.